Hong Ying Fasteners Enterprise Co., Ltd.--Hexagon socket screws of high-tensile steel alloy in full specifications
---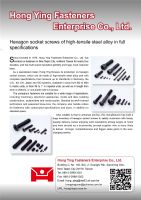 Since founded in 1976, Hong Ying Fasteners Enterprise Co., Ltd. has worked on fasteners in New Taipei City, northern Taiwan for nearly four decades, and has built sound reputation globally and huge, loyal customer base.
As a specialized maker, Hong Ying focuses its production on hexagon socket screws, which are all made of high-tensile steel alloy and with complete specifications that measure up to standards in Germany, the U.S., the U.K, Japan and ISO systems, available in sizes from M2 to M24 in metric units, or from #6 to 1" in imperial units, as well as in length from 2mm to 200mm, or one-fourth inch to 8 inches.
The company's fasteners are suitable for a wide range of applications, including machinery, electronic appliances, molds and dies, building construction, automotive and motorcycles. Backed by well-trained technicians and seasoned know-how, the company also handle orders for fasteners with customized specifications and sizes, in addition to standard specs.
Also notable is that to enhance service, this manufacturer has built a huge inventory of hexagon socket screws to satisfy customers with timely, speedy delivery, hence enjoying solid reputations among buyers at home and from abroad as a trustworthy, prompt supplier who is more likely to deliver stronger competitiveness and bigger sales gains in the ever-changing market.